Where stillness speaks…
THE ALPINE INCUBATOR RETREAT ON BEAUTIFUL VANCOUVER ISLAND
LISTEN TO YOUR OWN INNER WISDOM
In most every human culture and tradition there is time and space held for solitude and reflection. Even in mythology related to the human journey, youth, adults or elders seek solitude in order to facilitate and complete their transformation. Western traditions have left this practice unused for some time, but if one looks deeper into our own history, one finds what the pre-socratics used "Incubation" as a practice for growth. Solitude established a deeper connectivity between the individual and source.
Source is a guiding energy that exists in all of our lives. It is a barely audible whisper with the power and wisdom to provide answers unique to our own human journey.
More than at any time in history people are seeking answers to the questions of their lives and the challenges we face personally and as a society. Listen to your own inner wisdom.
The Retreat
This retreat is designed for people who are anticipating, seeking or experiencing change and are in need of direction. Our guided journey takes us high up into the mountains of Vancouver Island at 5040 hut, which we will use as our base. The days are facilitated to allow participants to slowly drop into the space of solitude; there will also be time together as a group to share insights and learning. Safety is paramount and every effort is made to create a sound, challenging and meaningful experience for each individual. With your journal and immersed in nature, you will have space for yourself and nature to commune and discern the path forward.
Value
Fully-catered fresh and nutritious meals

Individual and group coaching by certified professional Integral Coach

Guided day hikes and solo experiences in remote alpine locations facilitated by an internationally-certified mountain guide and naturalist (IFMGA & IGA)

Guided yoga and meditation sessions by 200-Hour Yoga Alliance certified practitioner

Three-night stay in a rustic, yet comfortable, remote alpine hut in a stunning location

A community of like-minded individuals
Dates
August 4-7,2020*
*Program begins in Port Alberni at 08:00 on August 4 and return to cars at 16;00 on August 7.
Investment
Contact us directly. Your investment includes accommodation, catered meals, guiding, yoga and meditation sessions, risk management and reflective facilitation. Cost does not include snacks and transportation to and from program location.
Location
This retreat will take place at the 5040 Peak Hut on Vancouver Island (a new Alpine Club of Canada hut). It is a stunningly remote location that will allow you to truly 'get away' from your day-to-day life.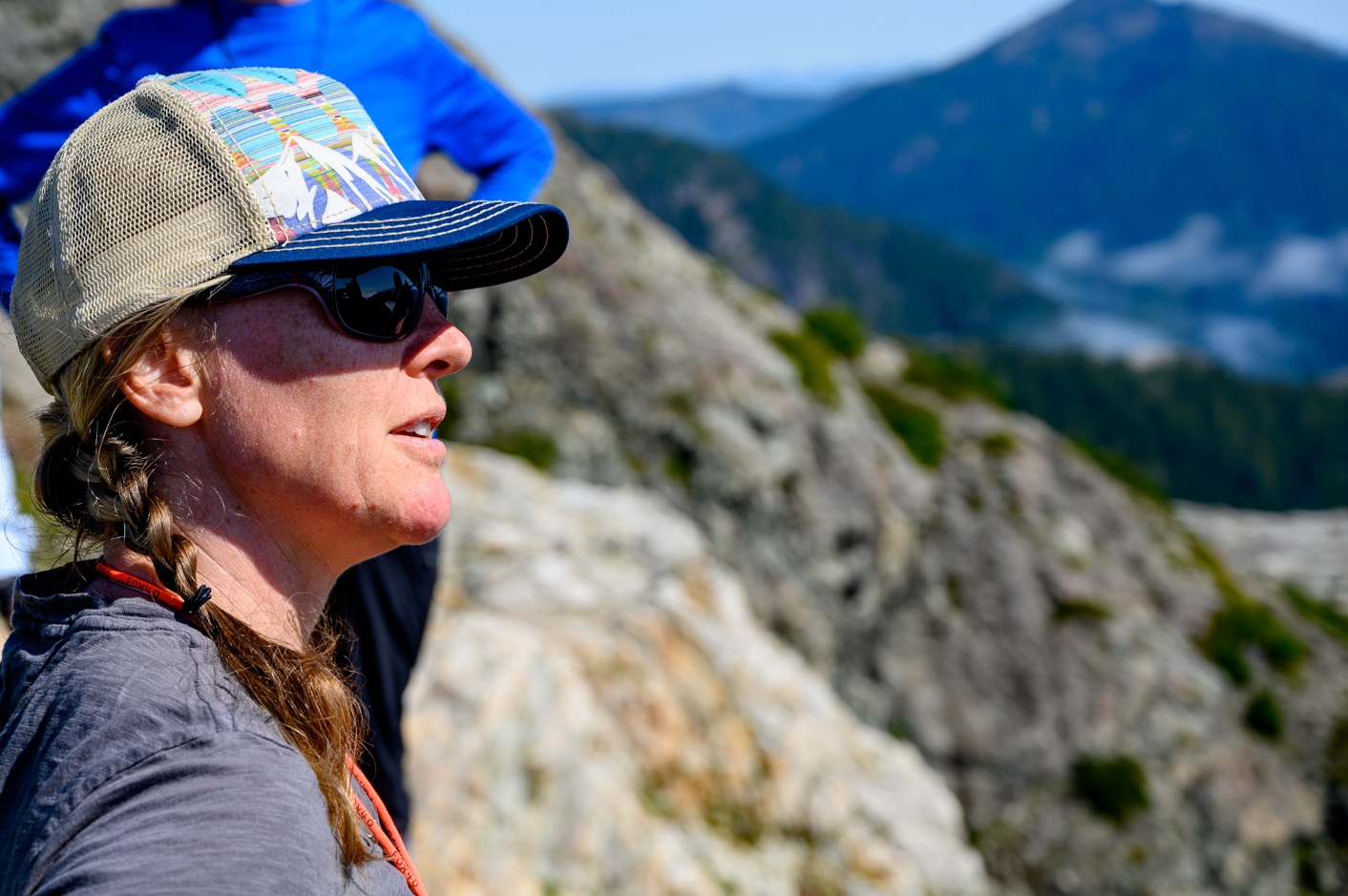 Julie is a life-long learner, a personal development and wellness coach, an educator and facilitator. She is also a certified yoga and meditation teacher. Julie believes that transformative change starts with the individual. So, as a coach and slow crusader, Julie works with individuals to help them become more deeply connected to themselves, others and nature so that they can be strong and powerful change-makers in every aspect of their lives.
As a facilitator Ken works with what the participant is experiencing in the moment. He is able to help individuals draw out the personal aspects of their journey. He is a deep listener who is tuned in to what is being said by the participant, others and the environment. His own personal journey underpins the work he does with his clients. On the technical side, Ken has achieved the highest levels of certification in the industry and is still an active guide rock climbing, back country skiing and in alpine environments.
How to Get There
The closest town to the trailhead (we will be hiking into the alpine hut) is Port Alberni, British Columbia.
Getting to Port Alberni…
By plane: The closest airports are Nanaimo, Victoria and Vancouver. It is possible to take a float plane from Vancouver to Nanaimo harbour.
By car: There are daily ferries from Vancouver to Nanaimo or from Vancouver to Victoria. Port Alberni is about a one hour drive from Nanaimo, or a 2.5 hour drive from Victoria.
By bus: There is a Nanaimo to Port Alberni bus that departs from the ferry terminal (Departure Bay) in Nanaimo. There is also a daily bus from Victoria to Port Alberni.
If you need help with your travel arrangements, please feel free to contact us. We will also facilitate ride-share opportunities.
Frequently Asked Questions
What level of fitness do I need for this trip?­
For this particular retreat, you will need to have a moderate level of fitness. We will be hiking 2.4 kilometres up the Cobalt Lake Trail to access the 5040 Peak Hut. The approach to this hut is not easy; it generally takes 2 to 3 hours on a rough trail that is continuously steep and rugged. You will be required to wear a backpack and transport all of your gear into and out of the hut; you will also need to ensure that you have proper footwear and outdoor attire, to ensure that you are both safe and comfortable. We will have porters who will help with group gear and food.
What is our accommodation like?
The 5040 Peak Hut is a backcountry hut, built by the Alpine Club of Canada. Staying in a backcountry hut is a shared, rustic experience. Sleeping, kitchen and living areas are communal and foam mattresses are provided for sleeping. There are no private rooms and the washroom is an outhouse (outside bathroom). You will need to bring your own sleeping bag and personal items for your time in the hut. Sleeping bags can be rented, if required. We will be sending a detailed packing list to help you prepare. Please reach out if you have any questions about what to bring or what to expect.
What is your cancellation policy?­
Cancellations received in writing up to 45 days prior to the Alpine Incubator Retreat's starting date will result in a 95% refund. Between 45 and 30 days prior to the retreat starting date, 75% can be refunded. Within 30 days of the retreat starting date, the retreat is non-refundable. An alternative, if you are unable to attend the retreat is for you to find someone else to fill your spot. If you are doing this, we ask that you keep us informed throughout the process. Overall, it is important that you thoroughly understand and consider the cancellation policy prior to booking as we make financial commitments to our cook, porters and hut provider and begin incurring costs upon confirmation.
Do I need medical/evacuation insurance?
We recommend personal, internationally accepted medical insurance for hiking in the backcountry. You will want to ensure that your insurance also includes emergency rescue and evacuation.
What happens if there is poor weather?
Unless it is unsafe or impractical to do so, the Alpine Incubator Retreat will operate rain or shine. The decision to cancel based on poor weather will be made by Mountains for Growth (Ken Wylie) and Julie Murray. It is the nature of the outdoors that the weather will not always be perfect. Come prepared and ready to enjoy whatever nature gives us. We will be sending you a trip pack list that will give you an overview of what you will need to ensure that you are comfortable on the retreat, regardless of the weather.